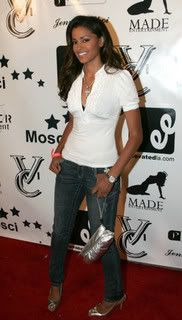 I didn't know anything about her before the end of last year, and I still haven't seen her do stand-up. But I listen to Claudia Jordan every Friday evening on
Jamie Foxx's Sirius/XM radio show
,
The Jamie Foxx Show
, and she is one of the funniest things about the program, especially when Foxx is off shooting a movie or recording/promoting a new album.
At first, I just wanted to listen to the Foxxhole show so that I could catch Jamie Foxx strutting his comedic stuff. I've been laughing at his crazy antics ever since his days on Fox's
In Living Color
sketch comedy show. Listening to Foxx live and uncensored was worth the cost of Satellite radio all by itself. (And I have to admit that I am closely following the breaking story about Liberty Media trying to save a cash-strapped Sirius XM with a $530-million investment, especially with the future of the Foxx show hanging in the balance.)
Even now, I get most of my black popular culture from Foxx and his comedy crew. Who knew that Katt Williams angrily challenged "King of Comedy" Steve Harvey to a New Year's Eve
battle royale
? Where else would I hear an Oscar-winning superstar tell Tavis Smiley that he was acting like the kind of antebellum slave that would have gotten killed by other slaves before they executed their escape plans (because Foxx considered Smiley an early "playa hating" against Obama). I even had the nerve to get some of my inauguration coverage from the crew. They took the historic moment very seriously, but some bursts of comedic brilliance were sprinkled throughout the festivities anyway.
Foxx and his no-holds-barred crew (including Johnny "M...F..." Mack, Felicia "O.G. Poetess" Morris, Speedy, Lewis Dix, Chris Spencer, and Michael Collier) go at each other (and the day's top stories) with reckless abandon. You should have heard them deconstruct Chris Brown's alleged assault on Rihanna. And everyone gets some gut-busting zingers in there.
Of course, it isn't for the kids, or the faint of heart. They can get quite "blue" and explicit about things. This is pay radio, remember. But Jordan always seems to hit the hardest. They constantly offer up a "joke of the day" award, and as far as I can tell, she's usually the recipient.
Jordan's
problem
, however, is that she also boasts a model's physical beauty, which might be a kind of death sentence for any serious comic. Her movie-star looks landed her a spot as eye candy on NBC's
Deal or No Deal
. And she's probably going to gain a ton more fans after her stint on this season's
Celebrity Apprentice,
also on NBC
. If the producers let her do her thing, she will be hilarious amidst the competitive chaos of that reality TV show.
Of course, you can't
see
her on the radio. But what you
hear,
consistently, are some of the funniest unscripted one-liners and witty rejoinders anywhere. Trust me. Don't let the
Deal or No Deal
suitcase fool you. Claudia Jordan is one of the quickest comics in America.
_(Photo from Photobucket.com)_